International Symposium on the Dissociative Recombination of Molecules with Electrons
Theory, Experiment, and Applications
Sponsored by the Division of Physical Chemistry of the American Chemical Society as part of the 222nd ACS National Meeting
August 26-30, 2001 Chicago, Illinois
View Pictures from the Meeting
The symposium will cover all aspects of dissociative recombination, i.e., reactions described by AB+ + e- -> A + B where e- is an electron, AB+ is a diatomic or polyatomic molecular ion and A and B are the neutral fragmentation products. Dissociative recombination is a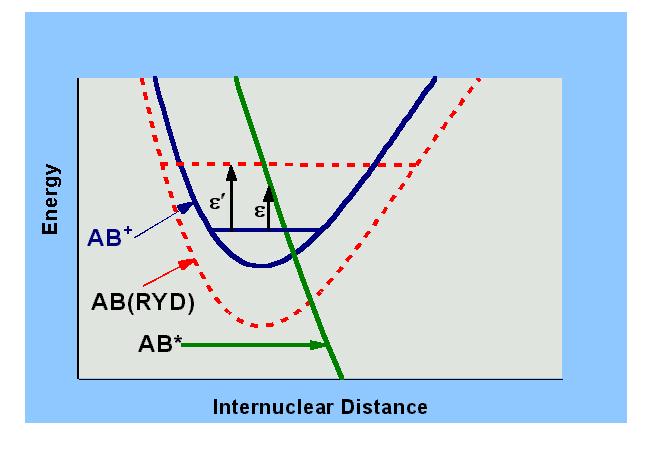 multifaceted process encompassing electron capture, autoionization and fragmentation. The nuclear motion in the exit channel is similar to that found in photodissociation, unimolecular decomposition and electron attachment to neutrals. The symposium will cover experiment and theory for each of these areas in addition to applications to the earth's ionosphere, the ionospheres of other planets, and the interstellar medium.

The program will consist of invited and contributed talks and a poster session. Both speakers and poster presenters should consult the ACS Handbook for Speakers. All speakers are expected to submit a paper describing the research covered in their presentation.These papers, after peer review, will be collected into a volume to be published by Kluwer Academic/Plenum Publishers.

The symposium is scheduled for Monday-Thursday and all sessions will take place in room S404A, level 4 of the convention center at McCormick Place South.

A pdf file containing the full Division of Physical Chemistry program (Sunday-Thursday) can be viewed or downloaded by clicking on the pdf icon.

You can browse the full set of abstracts for the symposium or use the search feature of your browser to locate a particular author or subject. The abstracts are not listed in order of presentation and are only for the oral papers. The abstracts for the entire ACS meeting and the full schedule are now on the ACS Meetings web site.
For further information, please contact , Institute for Scientific Research, 22 Bonad Road, Winchester, MA 01890, USA.
Check the ACS site for additional meeting and hotel information. All hotel reservations should be made at that site.
This symposium is supported by the U.S. National Science Foundation and the Petroleum Research Fund of the American Chemical Society.

Invited Speakers
Below is an alphabetical list of invited speakers (as of August 14, 2001) followed by lists of contributed papers and posters. Included with the speakerís affiliation is a tentative title.

Prof. Nigel Adams (with Toufik Mostefaoui, and Lucia M. Babcock)
Univ. of Georgia
Technique for distinguishing and determining the origin of photon emissions from He+/Ar+ plasmas: Recombination emission with addition of OCS, CS2 and H2S

Prof. Gabriel Balint-Kurti (with J. N. Harvey and A. Brown)
Univ. of Bristol, United Kingdom
Molecular Photodissociation and Dissociative Recombination

Prof. Fred Biondi Univ. of Pittsburgh
Dissociative Recombination of Electrons and Ions - the Early Experiments

Prof. Laurie J. Butler University of Chicago
Electronic Accessibility of Product Channels in Photodissociation: Implications for Dissociative Recombination Processes

Dr. Philip C. Cosby (with James R. Peterson, and David L. Huestis)
SRI International
Dissociative Recombination of Vibrationally Excited Levels of O2+

Prof. Tom Cravens University of Kansas
Dissociative Recombination in Planetary and Cometary Aeronomy

Prof. Olivier Dulieu Universite Paris-Sud, France
Associative Ionization with Cold Atoms

Dr. Thom Dunning (with Tanja van Mourik and Kirk A. Peterson)
North Carolina Supercomputing Center and Environmental Molecular Sciences Laboratory, Pacific Northwest National Laboratory
Advances in the Calculation of Electron Affinities

Prof. Ilya Fabricant Univ. of Nebraska
Dissociative Electron Attachment in Gas and Condensed Phases

Prof. Ray Flannery (with D. D. Vrinceanu) Georgia Tech
Stark Mixing in Dissociative Recombination

Prof. Juraj Glosik (with Radek Plasil, Vitoria Poterya, Pavel Kudrna, Milan Tichy, and Andriy Pysanenko)
Charles University, Prague, Czech Republic
Recombination of H3+ with electrons - low limit of the recombination rate coefficient

Dr. Maxim Golubkov (with G. V. Golubkov and A. N. Romanov)
Russian Academy of Sciences, Moscow, Russia
The Reaction, e- + O2+, in a Strong Laser Field

Prof. Chris Greene (with V. Kokoouline and B. D. Esry) University of Colorado
Importance of Jahn-Teller coupling in the Dissociative Recombination of H3+ by Low Energy Electrons

Prof. Hanspeter Helm Univ. of Freiburg, Germany
Selective Observation of Resonances in the Dissociative Recombination Process of Low Energy Electrons with H3+

Prof. Ken Hardy Florida International University
The Dissociative Recombination of the Helium Molecular Ion

Prof. Eric Herbst Ohio State University
Dissociative Recombination in Interstellar Clouds

Prof. Rainer Johnsen Univ. of Pittsburgh
Optical Spectroscopy of Recombining Ions in Flowing Afterglow Plasmas.

Prof. Ronnie Kosloff Hebrew University, Israel
Impulsive Photodissociation Dynamics

Mr. Sven Krohn (with Holger Kreckel, Lutz Lammich, Michael Lange, Dirk Schwalm, Daniel Strasser, Andreas Wolf, and Daniel Zajfman)
Max-Planck Institute for Nuclear Research, Heidelberg, Germany and Weizmann Institute of Science, Israel
Electron Induced Vibrational Cooling of the Hydrogen Molecular Ions H2+ and D2+

Prof. Mats Larssen Stockholm University, Sweden
Studies of Electron-molecular Ion Dissociative Recombination Using Ion Storage Rings

Prof. J. Brian A. Mitchell (with Robert H. Lipson)
Université de Rennes, France and University of Western Ontario, Canada
Dissociative recombination of Xe2+ and XeH+

Prof. Hiroki Nakamura Institute for Molecular Science, Japan
Analytical Treatment of the K-Matrix Integral Equation

Prof. Cheuk-Yiu Ng U.S. Dept. of Energy and Iowa State University, Ames, Iowa Absolute Cross Sections for State-Selected Ion-Molecule Reactions Involving O+(4S, 2D, 2P)

Prof. Takeshi Oka University of Chicago
Help !! Theory for H3+ Recombination Badly Needed

Prof. Ann Orel Univ. of California at Davis
Wave Packet Studies of Dissociative Recombination

Prof. Arnaud Le Padellec Université Paul Sabatier-Toulouse, France
Dissociative Recombination of CN+, HCN+ and HNC+

Mr. Franck Le Petit Observatoire de Paris, Meudon, France
Dissociative recombination and deuterium fractionation in interstellar clouds

Dr. Stephen Pratt (with Joel A. Bacon, and Costa A. Raptis)
Argonne National Laboratory
Vibrational Autoionization in Small Molecules

Prof. Christiane Rebrion-Rowe Université de Rennes, France
Reactions of Electrons with Hydrocarbon Cations: from Linear Alkanes to Aromatic Species

Prof. Bertrand Rowe Université de Rennes, France
Dissociative Electron Attachment at Low Temperature with Molecules and Clusters

Prof. Reinhard Schinke Max Planck Institute, Gottingen, Germany
Photodissociation and unimolecular dissociation of molecules

Prof. Annick Suzor-Weiner (with Ioan F. Schneider)
Université Paris-Sud and Université du Havre, France
Channel mixing effects in dissociative recombination and related processes

Prof. Hidekazu Takagi Kitasato University, Japan
Extension of the Quantum Defect Theory and its Application to Electron and Molecular Ion Collisions

Dr. Dahbia Talbi Université de Nice Sophia-Antipolis, France
Dissociative Recombination of an Ion of Astrophysical Interest :Quantum Chemical Calculations

Dr. Tetsume Tanabe (with Katsuhisa Chida, Koji Noda, and Ikuo Watanabe)
High Energy Accelerator Research Organization, Japan
An Electrostatic Storage Ring for the Research of Electron-ion Collisions at KEK

Dr. Richard Thomas (with S. Datz, C. R. Vane, S. Rosén, M. Larsson, and
W. van der Zande)
Stockholm University and Oak Ridge National Laboratory
Dynamics of Three Body Dissociative Recombination of Di-hydrides

Prof. Xavier Urbain Universite Catholique de Louvain, Belgium
State-selected Associative Ionization as a Probe of the Molecular Dissociative Channels

Prof. Daniel Zajfman (with Daniel Strasser, Lutz Lammich, Sven Krohn, Michael Lange, Holger Kreckel, Jacob Levin, Dirk Schwalm, and Andreas Wolf)
Weizmann Institute, Israel and Max Planck Institut fur Kernphysik, Germany
Three Body Kinematical Correlation in the Dissociative Recombination of H3+

Prof. Wim van der Zande FOM Institute, The Netherlands
Dissociative recombination of atmospherically relevant ions

Prof. Richard N. Zare (with I. Konnen and R. Zhao) Stanford University
Experimental studies of Vibrational Autoionization -- the Inverse of Ion Recombination


Contributed Papers scheduled for oral presentation:
Abraham F. Jalbout (with Ludwik Adamowicz) The University of Arizona
Chiral recognition via excess electron attachment to the 1,3-butandiol/2-butanol complex: Ab initio study

Q.-B. Lu with (L. Sanche) University of Sherbrooke
Great enhancements in dissociative electron attachment to chlorine-containing molecules adsorbed on H2O / NH3 ice

D. Strasser (with J. Levin, H. B. Petersen, O. Heber, A. Wolf, D. Schwalm, and D. Zajfman)
Weizmann Institute of Science and Max-Planck Institut fur Kernphysik
Branching ratio in the dissociative recombination of polyatomic ions

Motomichi Tashiro (with Shigeki Kato) Kyoto University, Japan
Quantum dynamical study of H3+ recombination
Posters
These are scheduled for Wednesday evening:

Ab initio calculations for the three-body C2 + H + H dissociative channel of acetylene. A. M. Derkatch, B. F. Minaev, M. Larsson

Dissociative recombination of NO+ . A. Petrignani, F. Hellberg, S. Rosen, R. Thomas, A. Neau, M. Larsson, W. van der Zande

Dissociative recombination of protonated dimer ions. J. Glosik, R. Plasil, P. Zakouril, V. Poterya

Electron collisions on C4- : Detachment and dissociation. A. Le Padellec, F. Rabilloud, D. Pegg, K. Andersson, D. Hanstorp, A. Neau, M. Larsson, F. Hellberg, R. Thomas

Investigating the three-body fragmentation dynamics of triatomic molecules using dissociative recombination and theoretical calculations. R. D. Thomas, S. Rosén, A. M. Derkatch, F. Hellberg, M. Larsson, S. Datz, R. N. Dixon, W. J. van der Zande

Merged beam studies of the associative ionization process. A. Le Padellec, X. Urbain, T. Nzeyimana, E. Naji

Enigma of H3+ in diffuse interstellar clouds. B. J. McCall, T. Oka


Other symposia at the Chicago meeting sponsored by the Division of Physical Chemistry are:
Physical Chemistry of Gas-Particle Interactions,
Computational Chemistry in the Undergraduate Curriculum,
What Can We Really Learn about Condensed Phases from Clusters?
Molecular Electronics,
Signal Processing in Chemistry,
First-Principles Simulation of Chemical Dynamics,
Stereochemistry in Aligned Environments, and
Three-Dimensional Si-O Cages: Materials for the 21st Century.
For more on Chicago, see the poems of Carl Sandburg.
CHICAGO
HOG Butcher for the World,
Tool Maker, Stacker of Wheat,
Player with Railroads and the Nation's Freight Handler;
Stormy, husky, brawling,

City of the Big Shoulders.....
Last Updated August 10, 2004